| | |
| --- | --- |
| Sunday 30 July 2017 | |
Styx, REO Speedwagon & Don Felder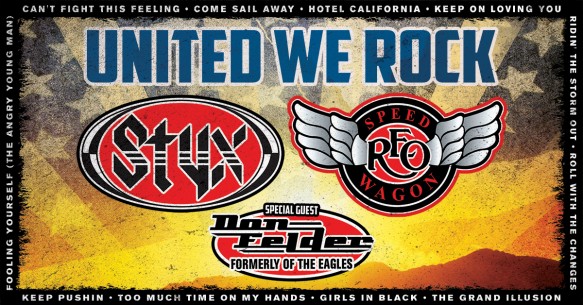 Styx and REO Speedwagon are hitting the road with former Eagles guitarist Don Felder and will be playing at the Starplex Pavilion on Sunday 30th July!
"I called up Tommy Shaw last summer and we were both thinking the same thing: let's get the boys together, make some music, and have some fun," said Kevin Cronin in a release. "REO Speedwagon and Styx together is a headfirst plunge into the fountain of youth, an unstoppable force of nature. Add the amazing Don Felder to the mix and it's a thundering slam dunk!"
The United We Rock summer tour is going to be huge. Due to this year's early announcement tickets are already selling in droves so buy your tickets today for Styx, REO Speedwagon and Don Felder at the Starplex Pavilion.