| | |
| --- | --- |
| Tuesday 10 July 2012 | |
Rockstar Energy Mayhem Festival: Motorhead, Slipknot, Slayer and Anthrax
Headlining this year's Rockstar Energy Mayhem Festival are Motorhead, Slipknot, Slayer, and Anthrax.  They're bringing the noise to Dallas, Texas at the Gexa Energy Pavilion on the 10th of July 2012.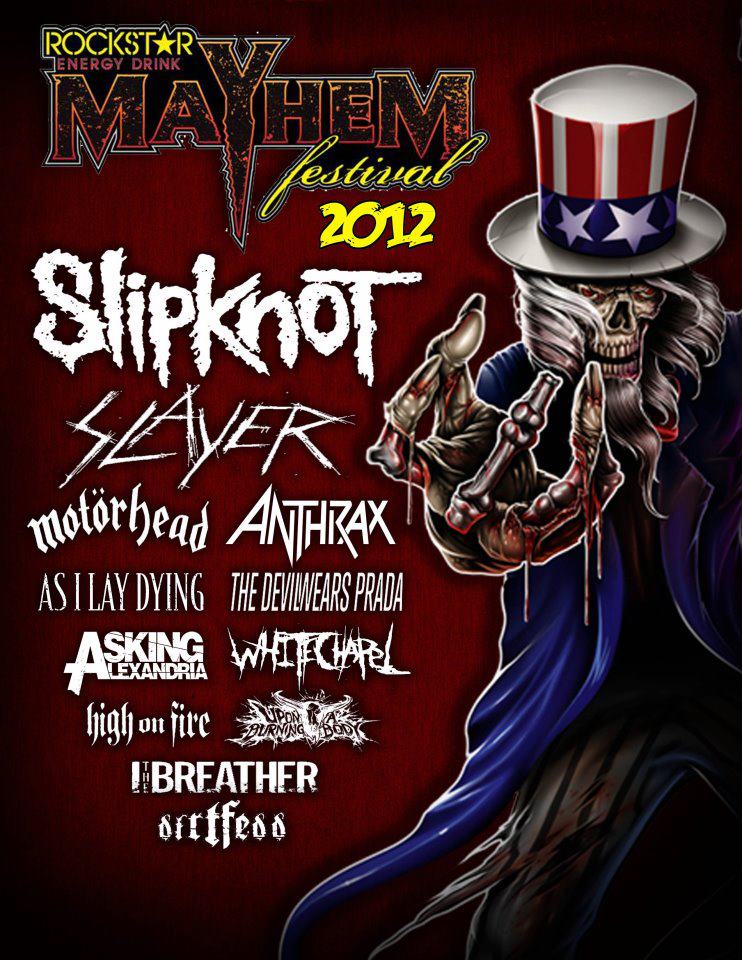 This is the time and place to make a lot of noise!  And yes, the neighbors aren't complaining.  The Rockstar Energy Mayhem Festival is annual metal fest that started five years ago.  One of the most highly anticipated concert tours in the country, fully-loaded with metal heavy weights such as metal masked rockers, Slipknot; thrash rock titans, Slayer; high-speed metal men Motorheads; and deadly infectious thrasers, Anthrax; plus supporting acts which include Devil Wears Prada, As I Lay Dying, Asking Alexandria, White Chapel, and High On Fire.
"Mayhem 2012 might just be the last and greatest metal festival before the world ends!…", says Tom Araya, bassist and lead vocals of Slayer.
But even if the world keeps on spinning after 2012, this festival would go down the annals of metal music history.  Year after year, no other metal fest comes close to creating a humongous moshpit of body slammers, stage divers, head-bangers, and dirty-finger flashers. This concert goes way beyond blowing-up your eardrums. If you want music that could shred your soul to pieces, then you've come to the right place…