| | |
| --- | --- |
| Saturday 25 August 2012 | |
Journey, Pat Benatar and Loverboy
Iconic 80s rockers – Journey, Pat Benatar and Loverboy will be rocking the Gexa Energy Pavilion in Dallas, Texas on the 25th of August 2012. For those who never stopped believing in them, rock your hearts out!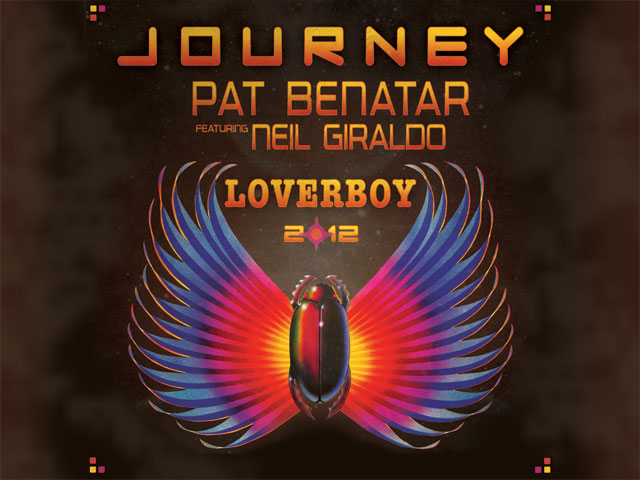 Here's your chance to hear "Don't Stop Believing', "Hit Me With Your Best", and "Working For The Weekend" all in one stage!  If you think you're just out to watch the movie 'Rock of Ages', think again. Here's something better, because here's the real deal!  Journey, Pat Benatar, and Loverboy is a tour de force that will bring to life all of their biggest hits.
Journey had their heyday in the mid-70s to the 80s, but they're still rocking and kicking, and reaping raves even in this day and age of digital music.  "Don't Stop Believing" is prominently used in movie and TV sountracks, and holds the record as one of the top downloaded songs on iTunes.  Journey started touring again also when they found a new lead vocalist on youtube, named Arnel Pineda.  They've waxed new albums and has been touring non-stop.  A 2005 USA Today opinion poll named Journey the fifth best American rock band in history. They are immortalised by their larger than life hits — "Separate Ways", "Anyway You Want It" and many more…
Pat Benatar is one of the most enduring rock chicks.  She is a four-time Grammy winner, sold multi-platinum albums, and has 19 Top 40 singles, including "Love Is a Battlefield", "Hit Me With Your Best Shot", and "We Belong".
Loverboy is a Canadian rock group with an iconic status.  Over the years, their hits have become rock staples, which include "Turn Me Loose" and "Working for the Weekend".