| | |
| --- | --- |
| Sunday 24 June 2012 | |
Gang of Outlaws: ZZ Top, 3 Doors Down, and Gretchen Wilson
The Gang of Outlaws are cruisin' down the live concert highway.  ZZ Top, 3 Doors Down, and Gretchen Wilson are on their way to Dallas, Texas, and are schedule to make a stop over at the Gexa Energy Pavilion on June 24, 2012.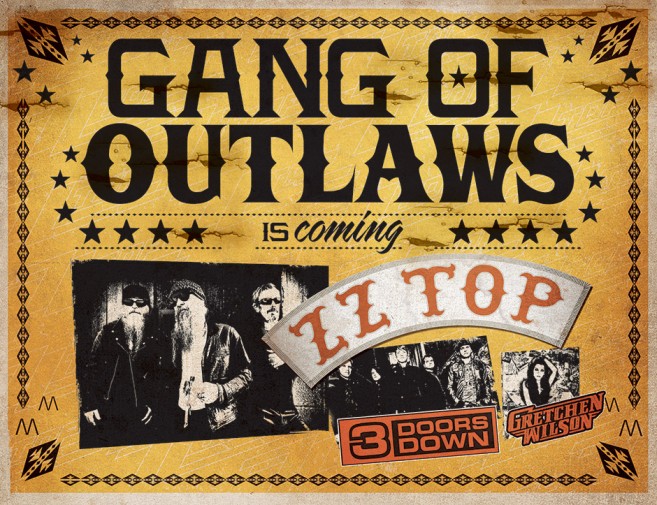 Three superstars of rock, blues, and country music unite for one spectacular evening.  These  acts are collectively billed as The Gang of Outlaws,  composed of bearded blues rockers ZZ Top, alt-rock hitmakers 3 Doors Down, and the lone 'Redneck Woman', Gretchen Wilson.
Gretchen Wilson will be 'one of the boys', and she excitedly exclaims:  "Obviously I couldn't be more excited that I am to be part of this tour … Fabulous guys, fabulous musicians!"   Gretchen Wilson may be the lone rose, yet her credentials prove that she's one tough cookie. Her debut single 'Redneck Woman' was instantly a Grammy winner and a chart-topping billboard single.  She has 13 Billboard chart-topping singles and has sold over 6 million albums worldwide.
ZZ Top is strongly identified by their chest-length beards and dark sunglasses.  This iconic image matches their iconic stature as one of the major influencers of modern blues and hard rock n' roll.  They have  solid, intact members spanning a career of 40 years.  They are certified Rock and Roll Hall of Famers, decorated with three VMAs, and ranks number 44 in VH1's "100 Greatest Artists of Hard Rock".
3 Doors Down was formed in 1996 in Mississippi.  They rose to fame with their first single 'Kryptonite' which charted in the top three on the Billboard Hot 100 chart.  From thereon, their succeeding albums produced an unbroken string of hit singles — 'Loser', 'Here Without You', and 'Be Like That', which was a featured track on the coming of age movie 'American Pie'.   Collectively, they have sold about 20 million albums worldwide.  The band is contantly on the road, doing about 200 shows a year and sharing the stage with their contemporaries like Nickelback, Hinder, Daughtry, Staind, and many more.