| | |
| --- | --- |
| Sunday 29 July 2012 | |
Evanescence, Chevelle, Halestorm
Evanescence, Chevelle, and Halestorm will rock your senses with their on-going tour tagged as the "Carnival of Madness".  This carnival will swing by the Gexa Energy Pavillion in Dallas, Texas on 29th July 2012.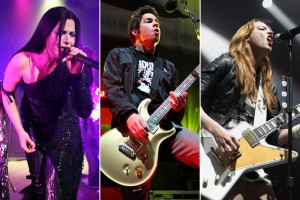 The Carnival of Madness walks the fine line of being every rock fan's dream and nightmare, all rolled into one.  This year's highlight acts are a tour de force of rock music's  progressive, goth, and alternative prodigies.
Evanescence ushered in a new generation of progressive and goth rockers.  Amy Lee's captivating presence lured more than 25 million fans to buy their albums which spawned the hits "Bring Me To Life", "My Immortal", "What You Want," "Made Of Stone," "My Heart Is Broken", among many others.
It's hard to ignore Chevelle — a rock alternative trio that zoomed their way to the charts in 2011.  Their debut album "Hat's Off To The Bull" features the #1 hit Active Rock singles "Face To The Floor" and "Hats Off To The Bull."
Another woman-fronted rock entity is Halestorm.  They stormed their way to the Top Spot at Active Rock radio via the single "Love Bites (So Do I)".